Check back for future event information.
Future Events*

11/17/21 Year End Tax Planning
*Dates and topics subject to change.
Past Events
NOTE: For best experience please view videos in Google Chrome.
Please view on PC or Laptop.
Medicare
Wednesday, October 20, 2021
Medicare Open Enrollment is approaching quickly (Oct. 15th – Oct. 31st) may be top of mind for many. Additionally, for those who are at/approaching Medicare age and often seek trusted professionals to assist them through filing and enrollment.
Baird's Financial Planner, Laura Davis, and Baird's Healthcare Partner, Alex Tolbert from Bernard Health, discussed Medicare planning to help you as listeners be prepared to navigate Medicare in general, open enrollment, share common misconceptions and mistakes, and highlight opportunities for you to consider. You will also learn more about how you can get the most out of your coverage and which choices make financial sense for you.
Please view on PC or Laptop.
Charitable Giving
Wednesday, September 15, 2021
No matter what stage of financial planning you're in, many people are often interested in how they can gift to their favorite charities and nonprofits in a tax-efficient manner.
The charitable giving landscape was altered in a number of ways with the passing of the CARES Act, including the addition of an "in between the line" deduction.
During this timely webinar, Chris Dolan, Sr. Financial Planner at Baird, covered what you need to know about the current charitable giving landscape in the United States, and what strategies can be implemented when giving.
Please view on PC or Laptop.
Social Security 101
Wednesday, August 18, 2021
The Social Security system can greatly benefit one's family by providing a meaningful source of retirement income. However, Social Security can also be one of the most complex government programs to understand.
Kara Endres covered the basics on Social Security, including:
eligibility of benefits
how benefits are calculated,
benefit claiming strategies, and
the current outlook of Social Security.
If you are approaching retirement or are approaching a social security claiming decision, this webinar is just for you!
Please view on PC or Laptop.
What You Need to Know About the Proposed Tax Law Changes
Wednesday, June 16, 2021
In light of the proposed tax law changes, there are short-term and long-term impacts that most investors should consider. Please join Kelsey Clair, Erik Wikstrom and Arti Batra as they provide an overview of the more impactful policies within the proposed tax law changes, as well as strategies you may consider implementing now to minimize the impact of these changes.
Among the tax and estate planning topics our panel will cover are:
Long-term capital gains tax rate changes
Increase in the top ordinary income tax rate
Reduction in the federal estate tax exemption
Potential increase in federal estate tax rates
Modification or elimination of cost basis adjustments at death
Please view on PC or Laptop.
Education Funding
Wednesday, May 19, 2021
One of the areas that the COVID-19 pandemic has had a pronounced impact on is the area of education. Students are learning in different ways and online and virtual education has never been more prominent.
Jeannette Haen and Christopher Dolan discussed how the current pandemic could affect the college experience, college costs and education planning going forward
Please view on PC or Laptop.
Business Owner Solutions – Transitioning a Business
Wednesday, April 21 2021
Transitioning a business to the next generation is a reality that all business owners must face. Whether to a family member, financial partner, or another company, this transition can be a complex process and take many forms. Successful transition begins with understanding your options, identifying your goals, and knowing the right steps to ensure a great outcome.
Andy McKay and Jason Spitz of the Business Owner Solutions team at Baird discussed the critical issues that business owners face during a transition and provide a guide to the basics.
The Business Owner Solutions team supports Financial Advisors and their lower middle-market business owner clients with business transition, valuation, and M&A advisory services.
The Economy and Your Financial Wellness
Thursday, March 18, 2021
Should you be worried about inflation? Will we ever pay down the U.S. National Debt? What simple rules can you follow to make yourself a better investor?
Michael Antonelli, PWM Market Strategist and author of the popular Bull & Baird blog, presented a high-level discussion on key economic factors, how they impact your financial wellness and strategies you can implement to stay focused on your personal financial plan.
Exploring BairdOnline and 360 Wealth with Tech Solutions
Wednesday, February 17, 2021
Baird's Technology Solutions Consultants, Andrew Krogstad & Michelle Dowling provided an overview of BairdOnline and 360 Wealth. They explores key features and functionality available to you through the online platform.
360 Wealth and Planning
E-Delivery Preferences
Secure Document Exchange
Online Security
Account Performance
Account Sharing
Account Nicknames
Account Grouping
2021 Market Outlook: How Politics and Policy May Shape the Market
Thursday, January 21, 2021
With the transition to a new administration, we will likely see how the change to our political landscape can impact the financial markets.
his live webinar with Courtney Rosenberger provided a 2021 market outlook, covering a number of topics on politics and policy and their impacts on the market, including:
Stimulus payments
Tax reform
Trade policies
Health care policies
Infrastructure plans
Defense spending
Regulation
Medicare Enrollment: The Good, The Bad & The Ugly
Wednesday, November 18, 2020
Chris Dolan MBA, CFP®, Sr. Financial Planner at Baird, Scott Conran, Business Development Manager, and Joel Nogueira, Sales Manager from HealthPlanOne and John Whaling, Financial Planning, from Bernard Healthcare, provided an instructive webinar on how to navigate the Medicare enrollment process, including highlighting some common misconceptions and potential opportunities to realize.
Tax and Wealth Transfer Planning in an Uncertain Time
Wednesday, October 21, 2020
The upcoming election brings greater uncertainty over the future of income tax and wealth transfer tax systems. Baird experts Kelsey Clair, Tax Strategist and Gail Freeman, Sr. Estate Planner, discussed year end planning strategies that you may want to consider implementing regardless of any future tax law changes, as well as to understand how future tax law changes could impact planning in 2020.
Planning for Families of Children with Special Needs
Wednesday, September 16, 2020
An entire family is impacted when a child or loved one has special needs or disabilities. In many cases, specialized planning is needed to navigate its impact on a family's financial plan.
In this webinar, Linda Grant-Smith, Regional Financial Planner at Baird, and Matt Stagner, Senior Special Needs Financial Consultant at Voya, will discuss four areas of impact when navigating the family's future:
family assets and planning,
government benefits,
employer benefits and
legal planning
Baird Technology Update
Wednesday, July 15, 2020
Join two of Baird's technology experts to learn how you can most effectively leverage Baird's technology to enhance your wealth management experience at Baird.
Zach Woolever, Technology Solutions Consultant, will be joined by Mike McGarry, Senior Digital Product Manager, who manages Baird Online, for a discussion on the newest Baird technology updates. They will share tools and best practices for how you can leverage all that Baird Online has to offer – in-depth portfolio insights, exchanging information and documents, insight into your total net worth and spending, and value-add services like eBill.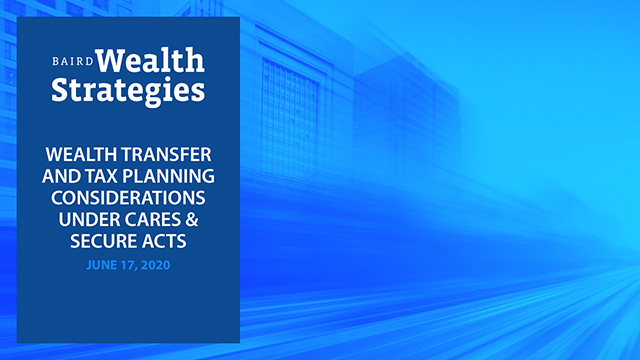 Wealth Transfer and Tax Planning Considerations Under CARES & SECURE Acts
Wednesday, June 17, 2020
Designed for tax and estate planning professionals, this discussion focused on the wealth transfer and tax planning considerations now available with the recent passages of the CARES Act and SECURE Act.
Cory Colvin, Baird's Director of PWM Growth Strategy – Market Director, moderated a discussion with Kelsey Clair, Baird's Tax Strategist, and Laura Ames, Baird's Sr. Estate Planner, as they took a deep dive into these legislative changes and the impact these new rules can have on a client's financial plan during their lifetime and their wealth transfer plan at death.
Tax and estate planning professionals will learn how to partner with Baird's Financial Advisors to deliver a coordinated wealth management experience to our clients.
Planning for the Small Business Owner – COVID 19 and Beyond
Wednesday, May 20, 2020
Jason Spitz from our Business Owner Solutions Team discussed the near term focus on COVID-19 and how this impacts your business. Jason gave an update on a variety of things from the CARES Act to cost reduction opportunities.
In addition, Jaleigh White, Director of High-Net-Worth Solutions and Andy McKay, Business Owner Solutions Managing Director, will discussed integrated business succession planning for business owners beyond COVID-19.
Hoodlums to Hackers: How to Stay Safe From Cyber Crime and Identity Theft
Password: Baird123
Featured Speaker: Jeff Lanza, Retired FBI Agent
Wednesday, April 15, 2020
Retired FBI Agent Keynote Speaker Jeff Lanza leads a dynamic presentation that focuses on how criminals try to trick us, steal our identities and commit cyber fraud. It demonstrates the simple steps we can employ to keep our identities safe and stay protected from the plethora of cyber scams and frauds that pervade our society.
Jeff provides easy to implement solutions to real world cyber risks. He explains what to watch for and where not to click, as well as provides tips and recommendations on how to safeguard against fraud.
Planning Under the CARES Act & SECURE Act
Featured Speaker: Linda Grant-Smith, Regional Financial Planner, Baird and Scott Grenier, Manager – Financial and Estate Planning, Baird
Wednesday, April 8, 2020
Recent Legislation, through the CARES Act and SECURE Act, and market volatility have created tremendous planning opportunities.
While silver linings are difficult to see during the pandemic we are living through, there are various financial planning opportunities that you need to consider to position yourself for financial freedom and success. Creating or reviewing your financial plan and understanding your tax situation will provide you with the foundation for evaluating and executing on any one or more of these planning opportunities.
Social Security Retirement Benefits for Women
Featured Speaker: Linda Grant-Smith, Regional Financial Planner, Baird
Wednesday, March 18, 2020
With March being National Women's Month, this was great time to discuss Social Security Retirement Benefits for Women. Linda Grant-Smith, Regional Financial Planner at Baird, discussed some of the considerations women should make when planning for Social Security.
Throughout the webinar, Linda touched on a variety of topics, including:
Determining your benefit amount
When to start taking benefits
Spousal benefits: Surviving spouse benefits | Ex-spouse benefits
High-level Social Security outlook
Medicare: Getting the Most From Your Benefits
Featured Speaker: Richard Braun, Financial Planner, Baird
Wednesday, February 19, 2020
Richard Braun, Financial Planner at Baird, discussed the costs and benefits of Medicare plans, as well as how to enroll. Learn more about how you can get the most out of your coverage and which choices make financial sense for you.
2020 Market Update
Featured Speaker: Mike Antonelli, PWM Market Strategist, Baird
Wednesday, January 15, 2020
Michael Antonelli, Baird's PWM Market Strategist and author of the popular Bull and Baird blog, provided his views on the current state of the economy and stock market. He will highlighted the key indicators he pays attention to when examining the market and why, along with some quick notes on what matters and what doesn't.